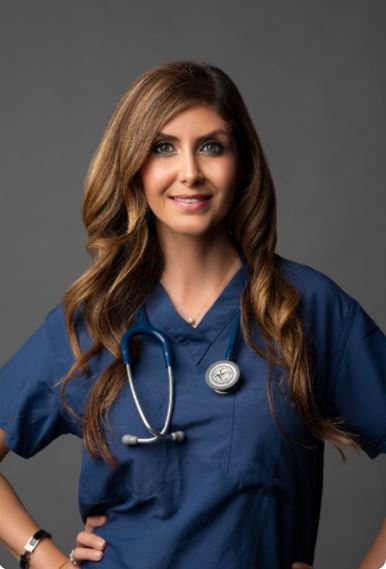 Meet our Reproductive Endocrinology and Infertility Specialist | Laguna Hills, Orange County CA
Background and Credentials
Banafsheh Kashani, M.D., FACOG is double board-certified in both Obstetrics and Gynecology as well as Reproductive Endocrinology and Infertility who has been treating infertility patients since 2014. She has been practicing in Orange County where she grew up since 2017.
After graduating cum laude and Phi Beta Kappa from the University of California, Irvine, Dr. Kashani received her medical degree from University of South Alabama, College of Medicine where she graduated in the top of her class.
She completed her residency training in Obstetrics and Gynecology at the University of Southern California. There she received tremendous experience in all facets of Obstetrics and Gynecology, but specifically had an interest in Reproductive Endocrinology and Infertility. She continued her medical training and pursued a subspecialty in Reproductive Endocrinology and Infertility at Rutgers, New Jersey Medical School.
After her fellowship, Dr. Kashani practiced at Kaiser Permanente in Orange County, followed by Eden Centers for Advanced Fertility in Newport Beach.
Since Dr. Kashani is focused on providing her patients with the most personalized approach to fertility services and treatments, she opened up her own practice in 2020. Her practice mission is to ensure patients feel comfortable and cared for, since infertility treatments can be overwhelming.
Dr. Kashani has received numerous awards. She graduated with honors in Biological Sciences from the University of California, Irvine, as well as Phi Beta Kappa and cum laude. Dr. Kashani was awarded the ACOG Gibbons Medical Student award. While in her residency training at the University of Southern California, she was recognized with the Daniel R. Mishell, Resident of the Year, Medical Student Teaching Award, Best in Leadership, Physician Selected by Peers to be their Personal physician, and the Nurses Choice Award. As a result, she was elected to be the Administrative Chief Resident at LAC+USC Medical Center. While in fellowship at Rutgers, New Jersey Medical School she was recognized for her teaching and mentorship of resident physicians and medical students. She also was granted the Endocrine Society Clinical Fellows Award in Women's Health.
Dr. Kashani has conducted extensive research in female reproduction, with a specific focus on the endometrium and implantation. She has written papers reviewing the medical management of fibroids and the effect of fibroids on fertility. Additionally, Dr. Kashani has authored papers in the areas of fertility preservation, and fertility in women with PCOS and Turners syndrome. She also was part of a large SART-CORS study evaluating the trend in frozen embryo transfers and success rates.
Memberships:
Fellow of the American Congress of Obstetricians and Gynecologists
Diplomat of the American Board of Obstetrics and Gynecology
Member of the American Society of Reproductive Medicine (ASRM)
Member of the Pacific Coast Reproductive Society (PCRS).
Member of the Society of Reproductive Endocrinology and Infertility (SREI)
Dr. Kashani speaks English , Farsi , and Spanish